Scott is featured on a five-part radio series on Business Talk (Tune In) Radio starting on July 8, 2020. These shows will focus on challenges his clients are currently discussing such as:
How to lead in a changed world
Putting you first as a leader to guarantee effective results
What's different due to COVID-19
Ways to improve satisfaction in all areas of life
The need to be even more agile
The important of resilience in leadership
Show is on Wednesdays starting on July 8 at 1:30p ET 
Click here to listen to the Live Show on Wednesdays.
Plus, he'll share the life-changing benefits of joining the Harmonic Warrior Awakening retreats held in the Sacred Valley of the Incas, in Peru.
Article on CV and Resume Differences Around the World
Learn about the differences in resumes and CV's around the world in this article. I was interviewed to provide perspective on the differentiator in the USA along with other career coaches from around the world partnering with Global Connection.
HARMONIC WARRIORS
AWAKENING RETREAT
The powerful blend of western learning with indigenous philosophy in this breathtaking location of the Andes mountains of South America deepens our connection with the Universe and us.
Read about the Awakening retreat here as featured in Transformation Magazine:    Click here to learn more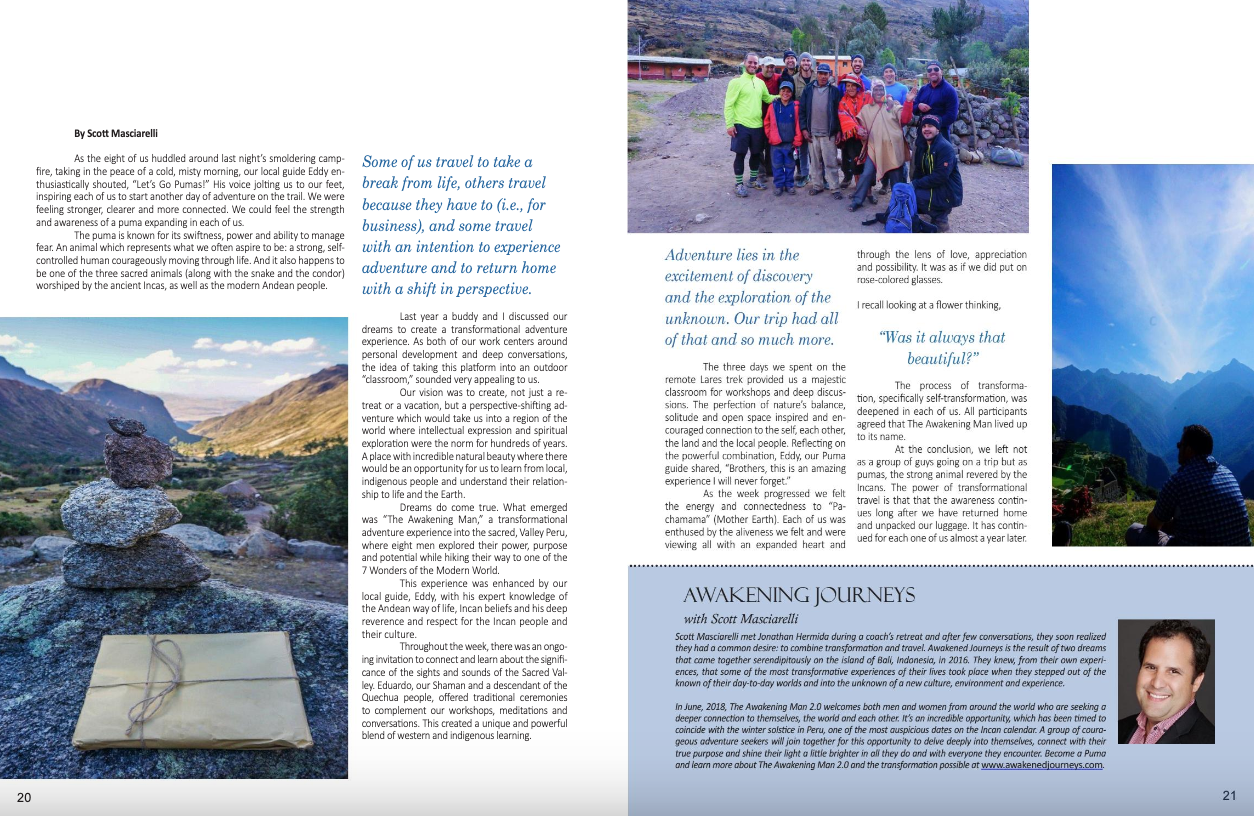 "Scott helped me orient my career in the direction that supports the life I envision"
– Rob, Director, U.S. Government
"Things are going really great for me. The job is great! They love me and I love what I am doing. I owe it to your coaching for helping me see and believe in myself."
– Caryl Fox, Architect
"Working with Scott has helped me to develop a focus on my career paths and decisions. Through his structured counsel, I've been able to develop my own motivating themes for what I find to be engaging in my career and to build upon my strengths. Scott coached me towards developing more effective messaging about where I can go in my agency which is building a migration path to a rewarding career."
– James P., Director, U.S. Government 
"When transitioning to my new expat assignment, Scott supported me in many ways to get prepared, reflect and see new opportunities that are ahead of me. Though I am working as a HR Consultant, my biggest learning in all discussions with Scott was, that we are never done with learning. New thoughts, ideas and an open mind came out of the coaching sessions. During the calls I have realized the full potential of coaching and benefits for myself of having been able to reflect on my career path."
– Gertrude Schaffer, HR Consultant, Jamaica
"Scott is an enthusiastic and supportive executive coach who provided valuable insight into how I can take action to achieve my goals.  Throughout the process, I experienced highs and lows in my work life and personal life and Scott helped to keep me grounded and growth-focused."
Gabrielle Hopkins, Vice President, Washington, DC