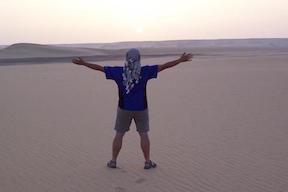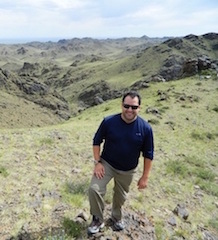 Scott Masciarelli, PCC, BCC is a multilingual leadership coach, coach trainer and retreat facilitator with professional experience in the United States, Latin America and Middle East. Scott encourages his clients and students to connect with their most authentic self and shine that into their work. He is visionary and thrives with the biggest challenges proving that there are many ways to a reach a goal but only one way to lead which is to inspire and put people first.
His global experience as a leader, expatriate, trainer, coach and avid traveler creates a unique and dynamic learning environment which can be experienced through coaching journeys, and transformative adventures and retreats. Scott partners with both individuals and organizations inspiring them to thrive.
In My Own Words



Since a young age, I have always embraced each and every opportunity and aimed to live my life with a "no regrets." If I was to pick two words which resonate with me they are Adventure and Fun. For me, it's important to always have something fun and exciting happening. Ideally a fun, new adventure!
Working for more than 20 years in corporate America, taught me many valuable things about leadership, people, creating structures and developing a team. As I was embracing opportunities along the way I found myself working across the USA, in Latin America and finishing out my corporate career in the Middle East as an expatriate. It was an exciting time traveling around the world, learning to speak several languages and developing friendships which have become a very important part of my life.
At the same time, I had a burning desire to increase my knowledge on topics which really interested me, not those that were directly related to work. This led me to study psychology, business practices, leadership and development, coaching, personal finance and foreign languages. Often I didn't really understand why I wanted to study something; I just followed my intuition and did it anyway not knowing if or how it would fit into the bigger picture of my life.
The more I learned the more I became aware of who I was and where my natural talents laid. I also noticed that I began to fit less and less into the narrow scope of a corporate job description. Initially, this was uncomfortable as I was asking "why do I feel this way?" After time I was inspired to explore how I could make a living honoring these diverse interests. At first glance one seemed not to have anything to do with the other. As I gave myself the permission to look with an open mind I began to see many possibilities and the synergy between my interests and experience.
This was only possible by my first making a commitment to honor my true (authentic) self which I was inspired to do when I began working with a coach. Through coaching, and coach training at International Coach Academy (ICA) I found the support and inspiration to retire from my corporate work and create a life with success on my terms that features adventure at the forefront. Today, I am an Executive Leadership Coach, retreat facilitator, and coach trainer with Impact Coaching Academy and Global Academy of Coaching based in Cyprus. At Impact, I facilitate the Executive and Leadership Coaching course and at Global, I am a Coach Trainer and Mentor Coach.
My professional life is now helping clients just like you uncover their passions and live authentically as they design a life with success on their terms.
Today I speak several languages, travel as often as possible and am passionate about helping you improve your personal and professional leadership skills as you design your adventure called life. This can take many directions. Wherever the focus is it's sure to be an exciting period of self-discovery and transformation as you create success on your terms.
As a coach, I am fascinated by what makes each one of us "tick" and thrive on deep conversations focusing on what is possible. I am intrigued by learning about what you want to accomplish and see you turn your best ideas into action. Partnering with you in success on your terms excited and energizes me. I look forward to working together!